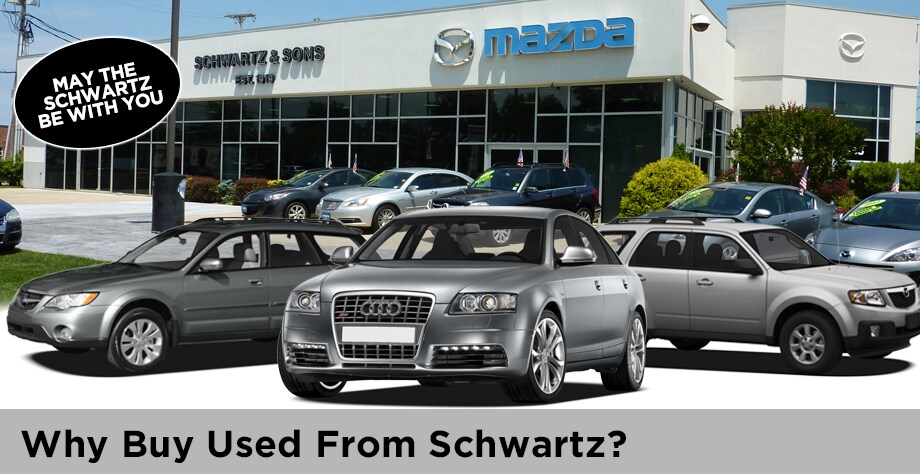 Benefits of Buying a Used Vehicle near Red Bank, NJ
For the vast majority of car shoppers, a vehicle is a large, important purchase, and finding one that you can afford but also has features you need and will enjoy is critical. Here at our Mazda dealership near Ocean, NJ, we know it can seem tough to find the right vehicle for your budget, and we have the perfect solution: a used Mazda car from our lot!
At Schwartz Mazda, we offer a wide selection of used cars, trucks and SUVs, all for excellent prices. Best of all, to maximize your selection, we have pre-owned vehicles from a variety of makes, not just Mazda. So when you come to us, you're not just getting our customer-first approach and dedication to service, but also the kind of inventory that means you're sure to find something you love. Our salespeople will get to know you and your budgetary needs, helping guide you to a car that you can afford that's also right for your lifestyle. Never settle for less when you're car-shopping, just because you're on a budget. Shop with us instead!
Benefits of Buying a Used Vehicle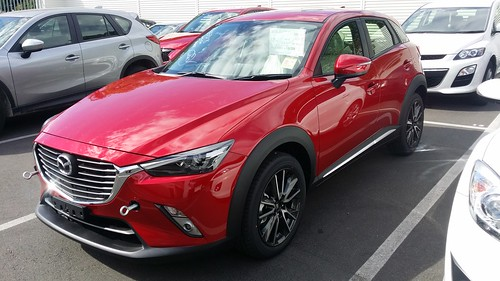 If you're struggling with deciding between a new or used vehicle, it might help to know there are several key benefits to buying a used vehicle instead of a brand-new one.
Lower Cost
Face it: brand-new vehicles can be expensive. According to Kelley Blue Book, the average price of a brand-new vehicle in January 2021 was $40,857. The obvious benefit of purchasing a used vehicle compared to a brand-new one is the immediate cost savings. New vehicles depreciate the minute you drive them off the lot, so used vehicles automatically cost less than their brand-new counterparts. According to Carfax, a vehicle typically loses more than 10% of its value the first month after you have it at home. After five years, that brand-new vehicle is worth just 40% of its purchase price.
Reduced Car Insurance Rates
The cost of ownership is higher with a brand-new vehicle. Typically, you will pay more for insurance as it will cost insurance companies more money to replace or repair a newer vehicle. Advanced technology features are also costly to fix compared to older models. As a result, the insurance company will probably pass along those higher costs to you.
Get More for Your Money
Because you're not spending as much money as you would on a brand-new vehicle, you might be able to afford that Mazda vehicle you'd been wanting, just in an older model. Maybe you had your eye on the Mazda6 or the XC-5 but couldn't swing the payments that come with a brand-new vehicle. Even purchasing last year's model will save you money, rather than buying it fresh off the assembly line.
Used Cars Last Just as Long as a New One
The idea that used vehicles aren't as reliable as older ones, especially ones that surpass 100,000 miles, is a myth. Many automakers have models that exceed that number, and you might even be able to get warranties on used vehicles to give you the reassurance you need that the vehicle will last for many more miles. Thanks to advances in technology and improved safety features, today's vehicles last longer than they did just a few years ago. Even a vehicle that is a few years old will last many years as long as you take care of it and keep it properly maintained.
5 Big Reasons to Buy a Used Car at Schwartz Mazda
1. Fourth-Generation, Family-Business
After opening its doors in 1919 in Red Bank, Schwartz Mazda has remained committed to offering customers the best in service and inventory. As a fourth-generation family-owned company, we know what it takes to be a successful dealership in the Monmouth County area. We use our unmatched dedication and experience to meet the needs of every Garden State motorist looking for a vehicle. Our employees receive training to treat every customer with the utmost respect, honesty, and fairness.
2. Certified Pre-Owned Vehicle
While most dealerships sell used vehicles that undergo a thorough inspection process, only the best-maintained vehicles make the cut as a Mazda Certified Pre-Owned (CPO) vehicle. To qualify, the Mazda must pass a rigorous 160-point inspection performed by a certified mechanic before we put them up for sale. Buying a Mazda CPO gives you the peace of mind you need knowing that your vehicle is safe and reliable. But it's not just CPO vehicles that receive a thorough inspection, as all of our used vehicles go through a 150-point inspection by a certified mechanic.
3. Powertrain Warranty
You might worry when buying a used vehicle about warranty coverage, especially since many warranties are available with brand-new vehicles. At Schwartz Mazda, our Mazda CPO vehicles include a 7-year/100,000-mile limited powertrain warranty. Another perk is that CPO vehicles include 24-hour emergency roadside assistance for the duration of the powertrain warranty. Also, every Mazda CPO at our dealership is covered by any remaining portion of its original 3-year/36,000-mile limited warranty. The CPO limited vehicle warranty gives you coverage for another 12 months or up to 12,000 miles, with no deductibles on covered repairs.
4. Affordable Options
Vehicle manufacturers produce between 300 and 400 new vehicles each year, but the used car market holds even more variety. You might think that buying a used vehicle from a private seller is a smart way to save money, but heading to a dealership to make this purchase allows you to purchase a used car without worrying about taking a huge risk. Many of the used vehicles available at Schwartz Mazda are priced under $15,000, and with so many choices to choose from, you're bound to find the right used vehicle for you.
5. Easy Financing
When you're ready to purchase or lease your Mazda from Schwartz Mazda, you can obtain financing through our dealership. Our team of financial experts will work with you to find the best financing options for you and your family. We maintain relationships with lenders scattered throughout the community, so we will get you fast-tracked for your most affordable payment plan. We also work with all types of credit, so even if you're worried you might not qualify for a financing plan, we can help you.
Contact Schwartz Mazda for Used Cars in Shrewsbury, NJ
Are you ready to check out our huge inventory of used vehicles? If so, reach out to us at Schwartz Mazda so we can get a few lined up for you to test drive. We want you to find the best used vehicle for your needs and budget, so don't wait another day to find the vehicle of your dreams.

Voted Best New Car Dealer and Best Used Car Dealer!